2010 - MCMLXXXIX / The Vogue Redux : George Mason University School of Art Fine Arts Gallery, Fairfax, VA.
but somebody almost walked off wid alla my stuff
like a kleptomaniac workin hard & forgettin while stealin
this is mine / this ain't yr stuff
-- Ntozake Shange
They do not know it, but they are doing it.
- Karl Marx
We feel free because we lack the language to articulate our unfreedom.
- Jacques Lacan
This installation, The Vogue Redux, 1990 - 2010, is an exploration into how media can shape identities while simultaneously providing a basis for colonized histories for the socially advantaged at the expense of minorities. For this specific project, I work with Madonna's "Vogue," a song that helped solidify her stardom at the expense of the young African-American and Latino homosexuals who originated the dance of the same name.
I started exploring this notion of how entertainment shaped my identity in through several video works, culminating in a cinematic essay, "MCMLXXXIX/The Vogue Redux, Part 1." I centered the video around the year 1989, which played an important role in my own personal development, as well as in cultural history: it was the year Robert Mapplethorpe was crucified in congress; it was the year the Berlin Wall fell; it was the year Madonna was on the rise; it was the year the Japanese Emperor Hirohito died, relating back to a fascination my father had with World War 2; it was the ear that the AIDS crisis was being compared to the holocaust.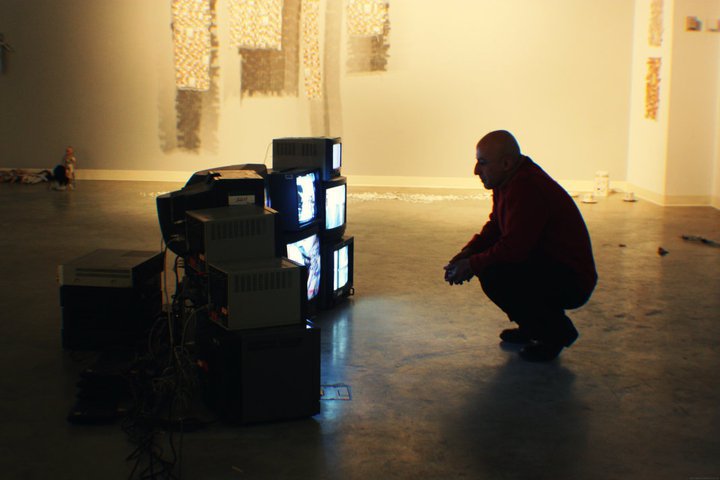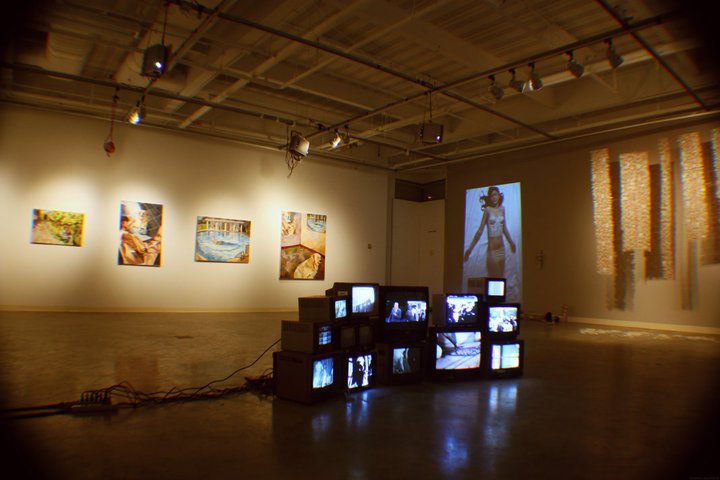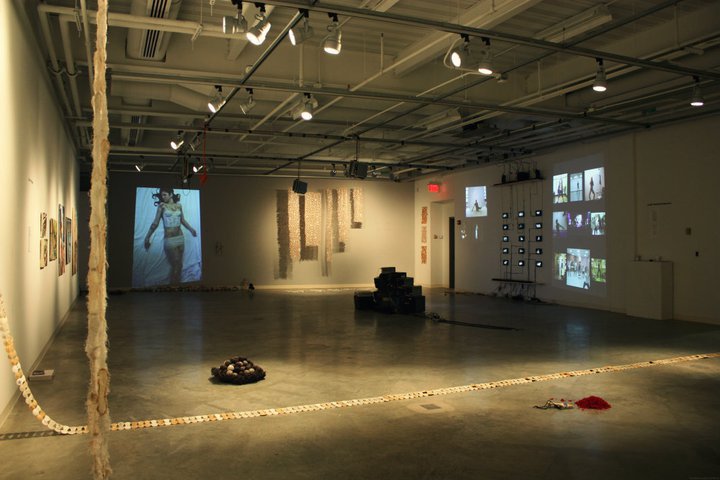 I envisioned a media installation piece where I could rewire the effects of this narrative upon myself, where I could attempt to validate my own history and breakdown the illusion on which it was based. So, I deconstructed the video and the song, reducing it to specific movements, suspending the dancers in mid-stride. I abstracted Madonna's face, aesthetically manipulating her beauty to create visual representations of the decay that these identity based social constructs had built up over 20 years time, the eating away at a column of hierarchical, institutional privilege. The decay that I felt within me. I broke down snippets of the music video, so that flashes of movement loop together to create a cycle of choreographed cultural imperialism.
Yet I still have a stake in that imperialism. I still identify with it, I still remember the influence it had in my youth. How do I, as a gay white male, a majority within a minority, reconcile a social identity that is largely based upon violent appropriation? How do I construct who I am in a world in which opticality rules first and foremost, while meaning almost never?
Through these experiences, both macro and micro, I developed a hypothesis of how I began to look to popular culture, interweaving global and political events with personal milestones, to define who I was as I came of age. Though I do not think my experience unique, my personal integration of media into the structure of my psyche left me forever influenced in the way I viewed the world.
Thus, I do on screen what was happening in my mind: voguers from Madonna's video meld with images of atomic bombings, Jesse Helms becomes a new face for Degenerate Art and various clips and scenes from music and movies bleed together to form a new narrative. This narrative is based on an age where we look out to see in, where we hold a mirror to entertainment to tell us about ourselves. Yet is is a narrative of a relationship to my own existence, told through a history claimed for capital, denatured from origin, and sterilized for mass market.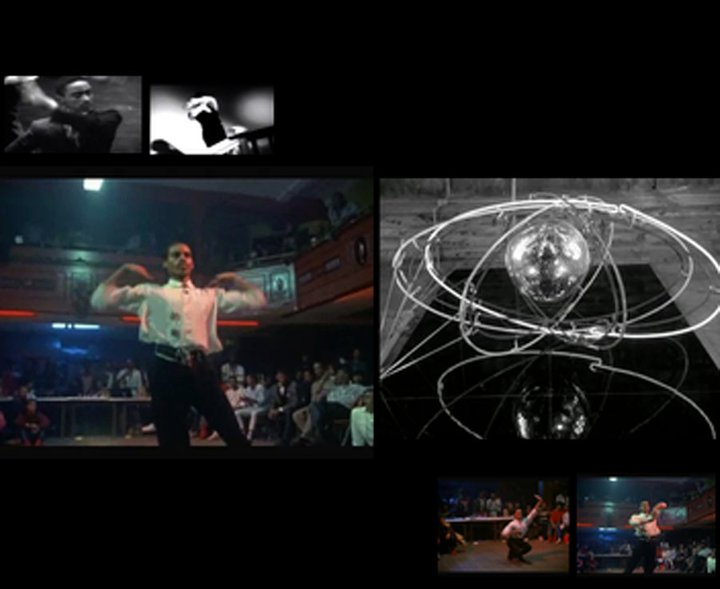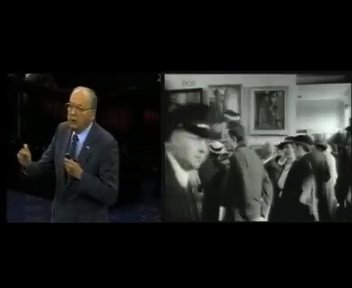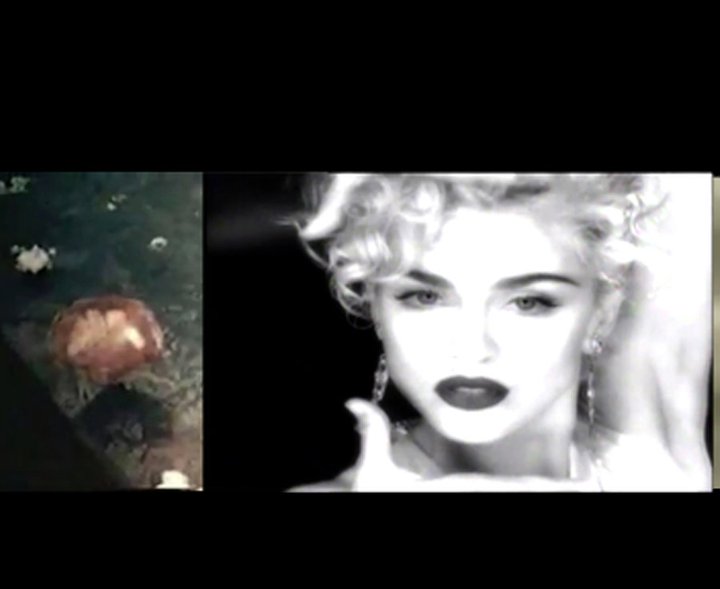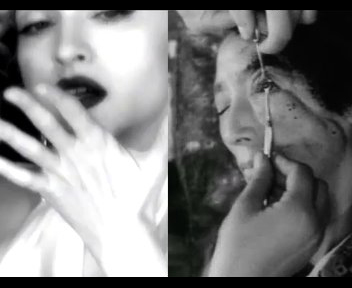 Though I don't claim to hold definitive answers, one thing I propose is a post-optical solution into how we view. Using the deconstructionist idea of breaking down visual culture to expose the real meaning, we start to see beyond opticality. Art does not have to take the form of an object, but instead can display the notions of how our mind views these problems. By exposing the flaws in these designs, the true nature can be found. By eliminating the overindulgence, the underlying truth is revealed. (Even while sometimes creating an over-overindulgence.) Through the creation of this work, it becomes apparent that the building blocks of one's identity is not always in their control, yet it is our collective social responsibility to explore those constructs and navigate through the illusion to find the hidden meanings and messages.
Update, 2015:
It's easy for people to think that this project is about Madonna - and in some ways it is, and I get that. But in my mind, Madonna is just a face for this specific iteration of exploring how a ruling majority - either racially or monetarily - tries to trademark a specific cultural movement, and oftentimes succeeds at the detriment of the minority culture that it was taken from. This surely isn't new, as dominant peoples have been erasing minority cultural history for centuries - though she is arguably one of the first truly blatant iterations of this phenomenon in contemporary postmodernism. However, there is an interesting juncture happening within a common discourse today of western society starting to fight back against things like this. We see it with things like Richard Prince's Instagram photos. However, and more importantly, we see it in the continuing conversation that is happening with race in this country through the recent tragedies of Charleston, Michael Brown, Eric Garner and so on. Yes, those cases are about a blatant and inherent privileged racism that is the foundation for American social hierarchy. Yet it is that very erasure of minority culture through a monetization of that same culture that goes hand in hand with the disappearance and disregard of groups of people. This is a distinctly 21st Century way of assimilation, through capital. It's the use of privilege to erase and undermine a minority culture while still being able to get rich off that same culture as it dies. It is how capitalism is used to suck the life-force out of these movements, while they instead become a culture within themselves to the ones doing the draining. It's the ultimate vampiric postmodern zombie producer. And through this, the physical people then die along with the culture. I was once told by an art critic that being manipulated like this is pleasurable, so why bother fighting against it? Perhaps we should in turn ask those whose culture it was in the first place.
Resources:
• For Colored Girls Who Have Considered Suicide / When the Rainbow is Enuf, by Ntozake Shange
• The Society of the Spectacle (updated by Heath Schultz)
• "Rashaad Newsome is Having a Ball," Hyperallergic, 3/11/14
• 13 Incredible Things That Happened in 1989 (via Buzzfeed)
• Madonna's 'Vogue' Turns 25, Slam and Jose Still Know the Routine (via Queerty)
• Let's Talk About White Gays 'Stealing Black Female Culture' (via New York Magazine)
• Nine-Year-Old Dances to Madonna's 'Vogue' In The Summer of 1991 (via The Huffington Post)
• 24 People Describe What The Ballroom Scene Means To Them (via Buzzfeed, July 27, 2015)
• Frieze (German), March/April 2015 - Rashid Johnson at Kunsthalle Winterthur, by Dominikus Müller (translated by Andrea Scrima): "(The work of Rashid Johnson) moved the focus from identity politics to questions of taste. What was once called Pop is now called art. And it decorates the apartments of the rich, predominately white collectors. This is precisely where the perfidious twist lies: African American history is sold as politically correct (art). You can't get any more ruthless than that."
With the huge privilege in the art market and in contemporary abstraction, I also can't help but think about zombie formalism in all of this. There is a connection somewhere.
• Who Has the Cure for "Zombie Formalism"? (via Hyperallergic)
• Flipping and the Rise of Zombie Formalism (via ArtSpace)
• Zombies on the Walls: Why Does So Much New Abstraction Look the Same? (via Jerry Saltz & New York Magazine)
• The Same Painting (via Tumblr)